"Efficiency is what makes the Discount Real Estate Brokerage model work. At 1 Percent Lists we are leading the way for other discount real estate brokers across the country."

Grant Clayton
Co-Founder of 1 Percent Lists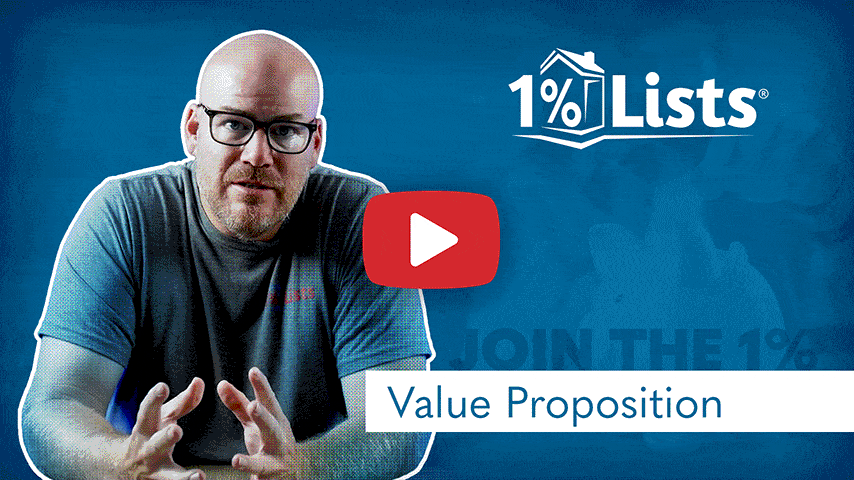 Disruption is here. Look around at the disruption that has taken place in other areas of commerce such as travel or retail and you see a common trend. Companies are figuring out how to more easily do more volume and become incredibly more profitable. Most brokers don't have the resources or knowledge to provide a better marketing solution for you so they teach you how to work harder and buy more disloyal buyer leads. We are here to show you a more profitable way to own a massive market share of listings in your area and leverage that to generate real, immediate buyers.
Our way is easier, more profitable, and in high demand across the country. Come be the disruptor.
➥ Crystal clear branding of our value proposition
➥ Facebook ads run by Franchisor
➥ Graphics design team provided by Franchisor
➥ Custom 1 Percent Lists branding for your ideas
➥Lead converting website provided for you
➥In house Google, YouTube, and Social Media marketers
➥Facebook Pixel Retargeting
➥Proven lead Funnels
➥Lead generation training to power up your office
➥National branding campaigns done by Franchisor
➥All marketing materials and professional videos included
➥Continual marketing materials provided at no cost
#3 Fastest Growing Real Estate
Brokerage in America
#40 Fastest Growing Veteran
Owned Company in America
How Production Has Changed
What it's like to work for us
Our real estate franchise vision is based upon setting up our franchise broker/owners for success. In addition to lowering the start up costs, we have simplified and lowered the franchise fees (compared to other national real estate franchises) and offer enterprise level, local digital marketing services, and advanced real estate SEO so our franchise owners can focus on building their business.
The 1 Percent Lists franchise model is designed to be less expensive to buy into than other real estate franchises. Because our value proposition is based on providing value, we insisted on creating a franchise model that had some of the lowest start up costs of any real estate franchise.
We have simplified the franchise fees to be based upon a low flat fee as opposed to a traditional six percent of total sales. This not only simplifies the franchise payments, but lowers the overall costs of becoming a national real estate brand.
DOMINATE YOUR REAL ESTATE MARKET
Our real estate franchise model does NOT require a physical location and expensive signage. With real estate being bought and sold online, we focus on a low overhead, high volume domination of every local real estate market we go into.
By design, our proven system of discount real estate services generates sellers looking for YOU. Past clients are happy to show their friends and neighbors how they saved thousands of dollars selling their home.
Our agents never leave us for a higher commission split or a easier sale. We show your brokerage the systematic way to increase your percentage of the listing inventory to dominate your market.
Our system lends itself to higher end homes as the more expensive the property the more the client saves.
Our system of selling the home at 1 percent on the listing side and the going rate for the buyer lets our agents not get caught up doing "old and antiquated" marketing techniques such as print advertisements. Sellers irrational demands are squashed at the listing agreement.
Provide real value to your sellers by saving them thousands selling their home while providing the full real estate service.
Optionally, our brokers can take advantage of our systematic digital marketing at a leveraged discount. For less than traditional advertising, we provide a consistent online marketing campaign including Google Ads and Facebook REmarketing.
NOTE: This website is not a franchise offering. A franchise offering can be made by us only in a state if we are first registered, filed, excluded, exempted or otherwise qualified to offer franchises in that state, and only if we provide you with an appropriate franchise disclosure document.
Follow-up or individualized responses to you that involve either effecting or attempting to effect the sale of a franchise will be made only if we are first in compliance with state registration or notice filing requirements, or are covered by an applicable state exclusion or exemption.
The following states regulate the offer and sale of franchises: California, Florida, Hawaii, Illinois, Indiana, Kentucky, Maryland, Michigan, Minnesota, Nebraska, New York, North Dakota, Rhode Island, South Dakota, Texas, Utah, Virginia, Washington and Wisconsin. If you reside, plan to operate or will communicate about the franchise in one of these states, you may have certain rights under applicable franchise laws or regulations.
1 Percent Lists is currently selling real estate franchises nation-wide with the exception of the following states: California, New York, and Maryland.